JarveePro All-In-One Social Media Dashboard: Introducing Exciting New Features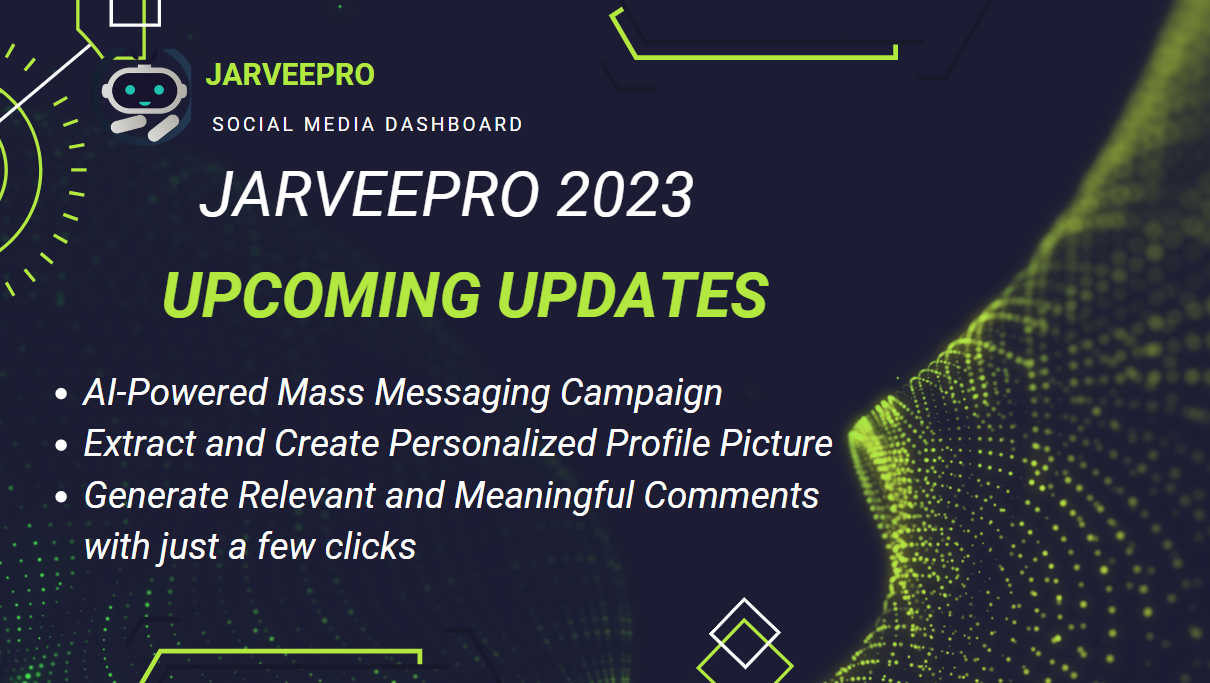 In the world of social media, staying ahead of the game is crucial for businesses and individuals alike. That's why we are thrilled to announce the upcoming updates to our amazing social media management tool, JarveePro. Packed with powerful features and cutting-edge technology, these new updates are designed to take your online presence to new heights.
AI-Powered Mass Messaging Campaign

One of the most exciting features we have introduced is the ability to conduct mass messaging campaigns on Facebook and Instagram. With just a few clicks, our users can now reach out to their target audience effortlessly. What sets this feature apart is the inclusion of an AI-powered content extraction system. Gone are the days of wracking your brain to come up with engaging content. Our AI will analyze your industry and extract relevant content for your mass messages, saving you time and effort.
Extract and Create Personalized Profile Picture

We understand the importance of personalization in social media marketing. That's why we have also added the capability to export customer profile pictures from Facebook and Instagram. By having access to your customers' profiles, you can better understand their preferences and tailor your content accordingly. This invaluable insight will help you create more targeted and effective marketing campaigns.

Twitter enthusiasts will be delighted to know that we have enhanced the posting experience on this platform. Now, when you attempt to post duplicate content, our system will automatically add the hashtag #Twitter. This small but significant addition ensures that your tweets remain unique and comply with Twitter's guidelines.
Generate Relevant and Meaningful Comments with just a few clicks

In the realm of comment management, we have taken things a step further by integrating AI technology into Facebook, Instagram, Twitter, and YouTube. No longer do you have to spend hours crafting comments for each platform. Our AI-powered system can analyze the content and context of the post, allowing you to generate relevant and meaningful comments with just a few clicks. This feature not only saves you time but also ensures that your comments are tailored to each post, increasing the chances of meaningful interactions with your audience.
At JarveePro, we are committed to providing our users with the most comprehensive and user-friendly social media management tool on the market. These new features are a testament to that commitment. Whether you're a small business owner looking to expand your reach or an individual seeking to build a personal brand, JarveePro has everything you need to succeed in the dynamic world of social media.
JarveePro is more than just a social media management tool. It is an all-in-one solution designed to help you unlock your true potential in the ever-evolving world of social media. With our comprehensive suite of features, you can stay ahead of the curve and take your social media game to new heights.Our latest updates bring a host of exciting features that will revolutionize the way you manage your social media accounts. From AI-powered mass messaging campaigns to personalized profile pictures and automated comment generation, JarveePro is your all-in-one solution for social media success. Stay ahead of the curve and unlock your true potential with JarveePro All-In-One Social Media Dashboard.
To learn more about these new features and how they can benefit you, visit our website or contact our support team today. Don't miss out on this opportunity to elevate your social media game!